Helpan extends free food support to all,
who need it in Emergency
To supply Food, in your emergency, "Helpan171" ( pan stands for All) is the one which extends its hands to all of you, including all in-coming foreign tourists.
Welcome to Japan
"Helpan 171" is a private organization to supply free to all in your disastrous situations in Japan, trying to help all victims, (including foreign visitors).
Let's extend our hands of Helpan, to all who need our help! Helpan = Help and pan ( to all )

What is "Helpan171"?
"Helpan 171" supports all foreign visitors when they need food in emergency situation in Japan.
(1) In recent years, there has been a large scale of natural severe disasters in Japan, and the importance of local disaster preparedness has increased ever than before.
(2) We also have a public support by both national government and local governments, but in order to overcome huge disasters, we need to prepare our own emergency supply more in local bases. So, it is necessary to prepare them with own hands without relying solely on public support, particularly, in facing to the large- scale of disaster.
(3) This is where, we, HELPAN 171, comes in! Receiving various assistance from companies and individuals, we have established a private food supply organization that stocks bread and basic food for people who need.
This is our main purpose of Helpan171.
We would like to expand our network of cooperation throughout Japan and try to build a local countermeasure against any type of disaster.

It is a private disaster support organization, which provides the bread by many of our partners has stockpiled beforehand to distribute, for all of disaster victims, including foreign visitors.
(This is) your partner's landmark sticker.
We have established a food center that stocks bread in cooperation with companies and individuals, which will promptly be able to provide them in the event of a disaster.
When you are set by a disaster, please rush to a nearby "Helpan 171" partner.
On the bread provided by "Helpan 171"
They are Moist, soft and delicious!
Everyone, from children to elderly people can enjoy having our bread without any health hazardous.
No preservatives and no deoxidizing agents
Moist and soft even after in a long term
Caramel chocolate for free egg allergy
Everyone, from children to elderly people can enjoy having our bread without any health hazardous.
Unlike an image, such as storage breads are hard and not enjoyable to eat, thanks to a new technology, bread, Helpan provides, can be stored for 5 long years without any taste changes. They are moist and soft enough, which you will be enjoying eating anytime.

Why so delicious?
Because, it is made in nature rich county Hokkaido!
The marks below are stickers for "Helpan171".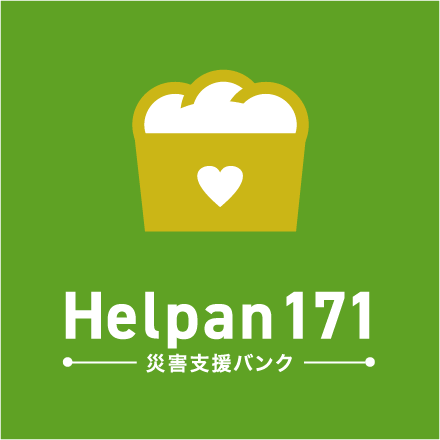 1~4 units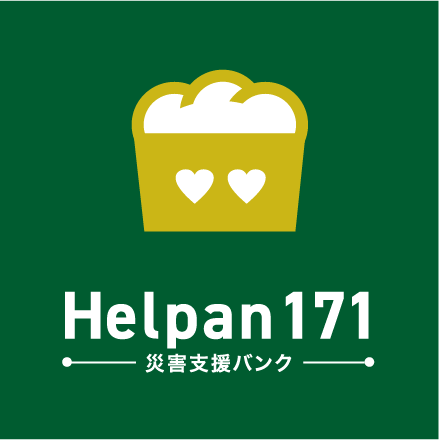 5~9 units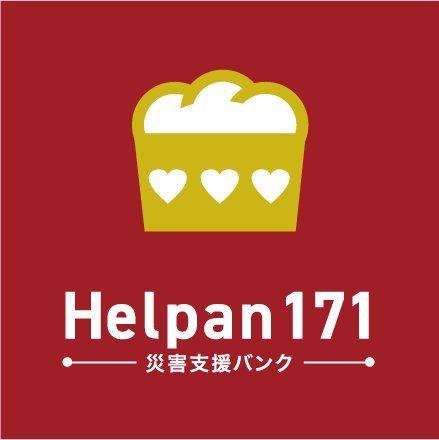 10 units more
※1unit = 40pcs

Here, you can obtain all information of Helpan 171.
https://helpan171.jp/management/
All the benefits, foreign visitors receive in emergency
Administrative Guidelines of "Helpan 171"
(1) We start to extend our supports, when National Government (Cabinet), or local government, proclaims its official request to support disastrous victims.
(2) We, Helppan 171, will work closely with "Council of sharing information on disastrous victims support" formed by local government, a headquarter of handling disastrous victims, Volunteer Centers, and all other private volunteer organizations.
(3) In order to support various types of needs of the victims, we, Helppan 171, will work under the rules made by a public corporation, "Breakthrough Bank".